Description
This flooring is produced in a soft and high-quality form in palizfoam collection. This flooring has high elasticity and flexibility to maintain the safety of children and has all the features necessary for children to use.
This elasticity makes the flooring impact-resistant in such a way that in case of possible collision of children with the flooring and getting hit, it reduces the intensity of the impact and reduces the possibility of injury.
You can protect your children with this functional and safety product. Because it is both safe and standard and hygienic. Kindergarten flooring has a health certificate and a Health and is compatible with the skin. Due to the hygienic nature of this flooring and its compatibility with the skin, in case of contact with the skin of children, there will be no damage or sensitivity for them.
palizfoam supplies industrial, sports, advertising, etc. foam products in the highest quality by complying with safety and health points and necessary standards.
Kindergarten flooring must be produced with first-class and hygienic quality; and be compatibility with children's skin to ensure their health and not harm them.
Due to the fact that palizfoam uses high-quality and healthy raw materials for production, it has succeeded in obtaining health and Health certificates. So you can be sure that this flooring is completely suitable for children and will not cause any harm to their health.
Also, because the surface of the children's body may be in contact with this foam flooring, so it is very important not to cause sensitivity, which palizfoam flooring has these features.
Due to the absence of lint, waste materials and abrasive surfaces in the flooring and its smooth and uniform surface, children's delicate skin will not be harmed, and children can play and engage in activities on these foam floors with ease.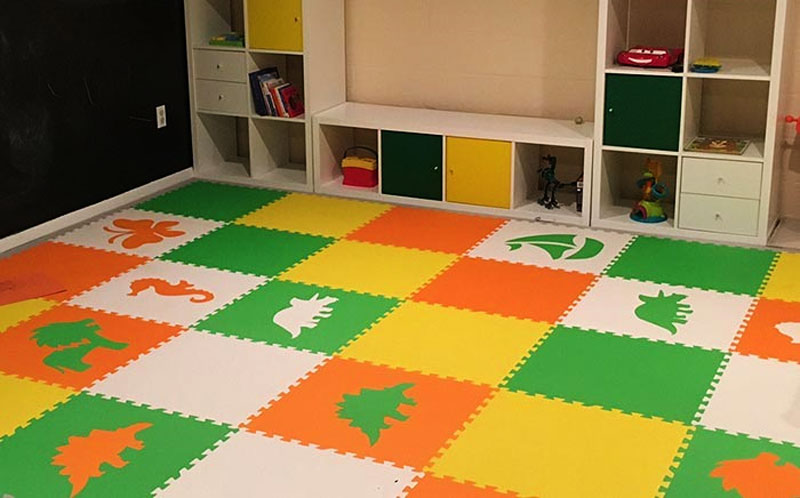 Kindergarten standard flooring
Another thing that is very important in kindergarten flooring is its safety and standard. Because in the environment where children spend their time and play, it is necessary to use a flooring that is completely safe and acts as a shock absorber for them in case of a possible accident, and because this flooring is made of soft and flexible foam. It is produced and has elasticity and can be a suitable shock absorber for children.
Cleaning this flooring is also one of the health issues that should be paid attention to. You can easily clean the nursery flooring without using chemical detergents. palizfoam kindergarten flooring can be easily cleaned by using a cloth or wet wipes If liquids are spilled on these floors, the liquid will not penetrate inside and it can be easily cleaned from the surface of the flooring.
Kindergarten flooring of high quality and high standard is produced in palizfoam and it is the best flooring for use in kindergarten and children's room.
The noteworthy point in kindergartens is the happiness of the environment, because children need a space that makes their soul happy, and we can give happiness to children by creating a colorful space with palizfoam flooring that has diverse and happy colors. The variety of colors of these floors is suitable for people with different tastes.
Kindergarten flooring is in the form of a puzzle with treads on both sides; This feature allows you to use the other side if one side of the flooring is damaged.
Patterned tatami flooring is also a type of kindergarten flooring that has designs of animals, hearts and flowers. These floors are more attractive for children and make the environment more beautiful.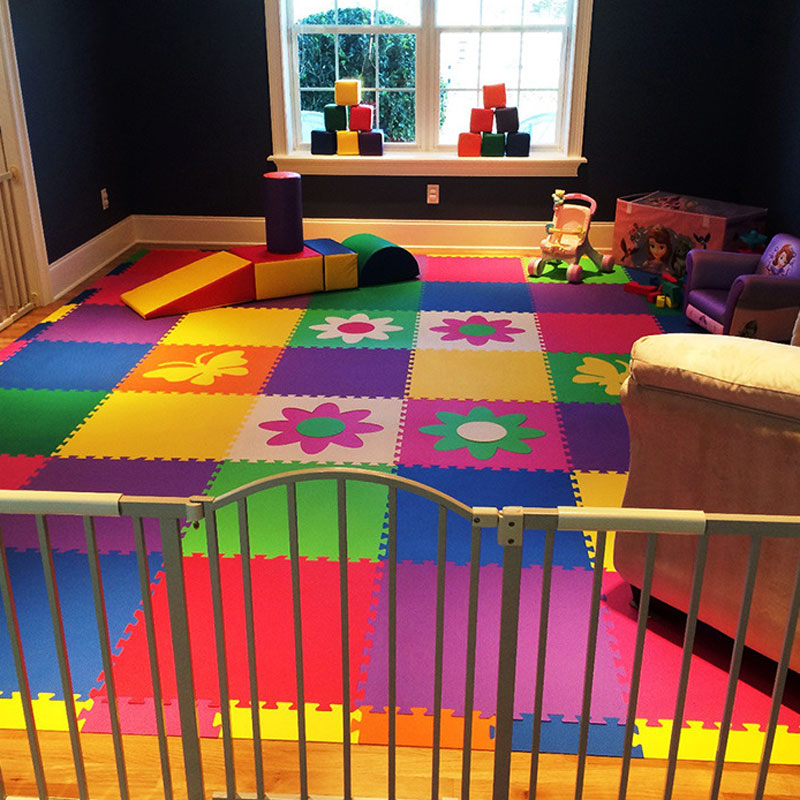 Installation of kindergarten flooring:
This flooring is in the form of a puzzle, and the pieces are locked together like a puzzle. The same method is also used for separating parts.
The fact that these floor coverings are pieces has the advantage of being able to use various colors in the layout. And every part is easily replaced.
This flooring can also be used as a wall covering. Due to the flexibility that was mentioned earlier, these wall coverings are impact resistant and prevent people from being injured. In addition, they also make the walls beautiful.
The reasons why we should use palizfoam kindergarten flooring:
Happy and varied coloring suitable for children's spirit
Softness and Resilient to protect children's safety
Hygienic and has a health certificate
Compatibility with children's skin and not causing sensitivity in them
Puzzle feature for easy installation in the kindergarten
Being waterproof for easy cleaning of the flooring
Different dimensions and thickness for different needs
Ribbed
Two-sided tread for use on both sides
The safety and high standard of these floorings
Has a standard certificate
The uses of flooring:
Kindergartens and preschools: As a shock absorber and a product for the beauty of the kindergarten environment
child Room: As a shock absorber and a product for the beauty of a child's room
Children's play park: As a shock absorber and a product for the beauty of the kindergarten environment
Children's sports halls: For floor covering as shock absorber
Children's home: for to increase safety in children's play and educational centers