What are disposable hairdressing slippers?
Disposable salon slippers are produced from EVA foams. These slippers are produced in free size and cover sizes 42 to 43. The foam used in these disposable slippers is completely first-class, and for this reason, these slippers have a very comfortable, soft and light structure and are completely hypoallergenic and compatible with all types of skin.
Disposable hair salon slippers are also known as salon slippers, pedicure slippers, yoga slippers, etc. It is obligatory and necessary to use disposable hairdressing slippers in all salons; Especially in beauty salons that have pedicure and massage lines.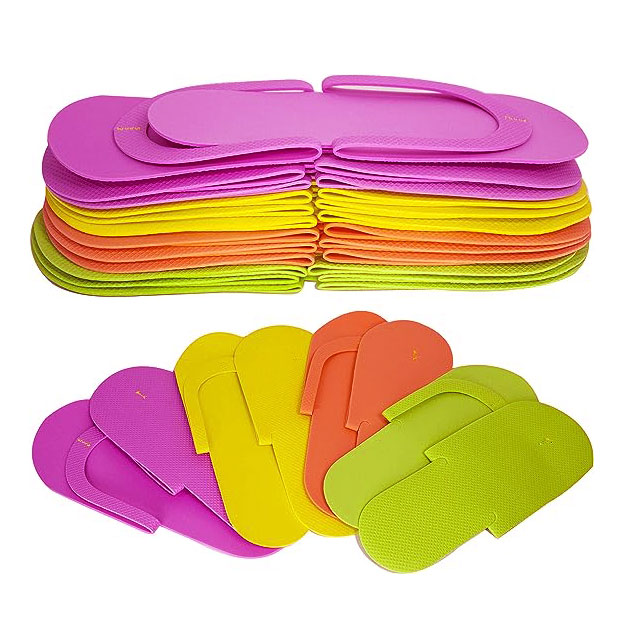 What is a pedicure? What is the importance of pedicure slippers?
Pedicure is one of the services that has become very popular in beauty salons today. Pedicure is for feet, which includes: Cleansing, massage, removing dead skin on the soles of the feet, straightening the feet, etc. In general, pedicure is considered as a health and beauty service; which not only has its own big fans, but all people do this once in a while.
Now we want to discuss why it is important to use disposable barber slippers (pedicure slippers) in the beauty salon.
When you visit a pedicure center, you expect a completely clean and suitable environment. Now imagine that some people have entered this center with outside shoes, and in addition to dirtying that part of the hall, they have also brought pollution from outside the hall into the hall. It will certainly not give you a good feeling and you may not visit that beauty salon again.
So, at this stage, disposable hairdressing slippers come to the aid of beauty salon managers. The managers of beauty salons by buying disposable hairdressing slippers and making it necessary for everyone to use these slippers, in addition to making the salon clean and preventing pollution in their salon; It gives a very beautiful effect to their beauty salon. Because by using these slippers, almost everyone will be uniform and his salon will have a special beauty and his customers will be added day by day.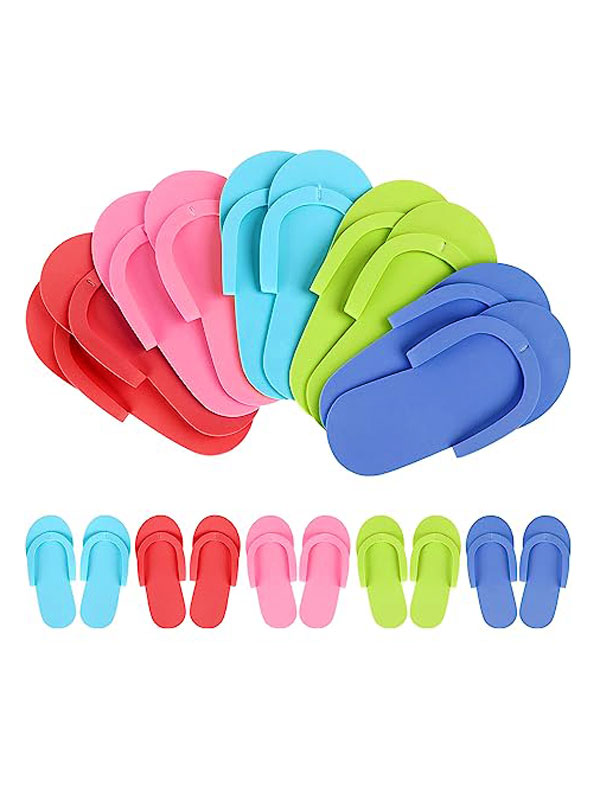 In which places disposable hairdressing slippers are used?
It should be said that disposable hairdressing slippers are not only for use in beauty salons. Rather, disposable slippers can be used in all environments where you should not enter with shoes.
The environments that we can use disposable slippers are:
All parts of the beauty salon
Swimming pool
Laser room
Beauty clinics
Yoga hall
Even at home
By using disposable slippers in all kinds of environments, you will add beauty to that environment and your clients will feel better about you and your clinic or salon.
Advantages of using disposable salon slippers:
Maintaining the health of the environment
The lightness of the slippers
Comfort and softness of disposable slippers
flexibility
anti-slip
Many colors of disposable slippers
The free size of the product

Disadvantages disposable salon slippers:
Free size up to size 42-44
It is for women
The slippers are disposable
What is the method of using disposable hairdressing slippers?
The method of using this product is very simple. You only need to separate the two sides of the slipper, which are already cut with a razor, and stick them together and put them inside the middle part of the slipper and use it easily.
palizfoam Group is a manufacturer and exporter of disposable slippers, tatami, granule and high-quality foam sheets. You only need to choose one of the following methods to order this product and buy tatami flooring.
By dialing 57719, you can contact the sales department of the collection and finalize your order after talking and receiving free advice before purchasing.
WhatsApp palizfoam is active with the number 09381936574. After saving the number, send a WhatsApp message to Paliz Foam, so that the admins of the sales unit will follow up and register your order after viewing your message.
This shopping style is for those friends who still don't trust online shopping and want to do their shopping in person. First, you have to coordinate the time and day of attendance at the collection through WhatsApp or phone call. Then you can come to the Palizfoam sales office at the specified time. Address: North Saadi, before Manouchehr, Aminzadeh Alley, No. 33, West Unit 4.
After viewing the product type, you can register your order with full confidence.